Documentation
Table of Contents
---
1. Preface
Troop Discuss and Crew Discuss are templates or patterns to follow when setting up a messaging board specifically designed with the needs a Scout Troop and venturing Crew in mind. It provides a consistent and easily used web presence for the Troop/Crew. Complete documentation is found here and on the Frequently Asked Questions (FAQ) pages of the Help Desk. The Help Desk consists of the FAQ's and a ticket system.
The Help Desk FAQ is in 3 categories:
The Help Desk FAQ, can be viewed by anyone and is indexed by search engines.
The Ticket system can only be used by the administrator and the tickets are not indexed.
What is a Help Desk Ticket you may ask. Click the link to find out.
NOTE: If a Troop Discuss or Crew Discuss Messaging Board administrators needs any assistance what so ever to set up their board after purchase please submit a ticket. All assistance to Scout Troops and Venturing Crews is free of charge.
To submit a ticket, Create Account on the Help Desk system and login to the Help Desk. We recommend using the board email you provided and a personalized Name/Alias. Describe the issue you are having. We at Ten Mile High will respond ASAP.
We can use a TeamViewer remote desktop connection to your Troop Discuss and Crew Discuss administrator's PC to provide direct hands on support when needed. You will find that TeamViewer will aid in cross training Troop Discuss and Crew Discuss administrators. It is free for non-commercial use and free to you to allow our connection to your PC.
Once you purchase Troop Discus and Crew Discuss then follow the instructions at "Troop Discuss and Crew Discuss Getting Started" FAQ to place it online for use by the Troop/Crew.
The documentation provided below is background material intended for the most part to educate the novice computer user and to inform the prospective users as to what went into the development of Troop Discuss and Crew Discuss. This information is repeated in the Troop Discuss and Crew Discuss FAQ.
---
1. Inserting Youtube videos and other video sources into Post
How do we insert videos into a post? The basic procedure is thus:
Find the video on youtube and copy the URL. Just the domain and "v=" query string is needed.



Edit post and click on the video icon and copy the URL to the text box. The procedure is similar for other video sites but first select the video site from the dropdown box.



This documentation relates to the Troop Discuss and Crew Discuss product , one of a family of web presence products of Ten Mile High LLC. The parent company Ten Mile High also offers a soon to be released virtual IVR telephony product and a SSH Explorer product.
---
2. Selecting another Language
Scouting is happening all around the world – there are National Scout Organizations representing their home countries and delivering the promise of Scouting in virtually all areas and regions globally.
The World Organization of the Scout Movement (WOSM) is a confederation of 170 national Scout organizations. WOSM was formed to encourage the Scouting movement throughout the world by promoting unity and understanding of its purpose and principles and by supporting its expansion and development.
The Messaging Board is multilingual! You set the default language for the board at ACP->GENERAL->Board settings->Default Language and individual users can select their country flag in theri UCP->Profile->Edit Profile.
The Messaging Board has the following languages installed for the board and for most extensions of the board: Google Translator for Firefox and
US English
German
Spanish
French
Polish
Portuguese
Turkish
Dutch
The language packs only affect standard language in phpBB, such as labels, explanations, buttons, and extensions. They do not translate text entered in posts. The Troop Discuss and Crew Discuss Templates forum and topic text is in english. The admin needs to translate these to the boards preferred language. We Suggest the Google™ Translator.
If there is a particular language that you want, submit a ticket, and We will test it on a Demo board and install it on your live CrewDiscuss board when you so instruct.
This documentation relates to the Troop Discuss and Crew Discuss product , one of a family of web presence products of Ten Mile High LLC. The parent company Ten Mile High also offers a soon to be released virtual IVR telephony product and a SSH Explorer product.
---
3. Selecting Styles
---
4. Recent Topics Feature
---
5. Four Techniques of Inserting Images into Posts
A. The preferred method is to sign up on postimage.org. Upload the image to your postimages account in the gallery that you create. So in this image you have three galleries, default, other, and posts. You can click on the images below and they will be displayed full size. This is a feature of post image.

Clicking on the default gallery. Then all your images are shown.
Click on Upload to drag and drop and image to your gallery

Click on an image in the gallery and click sharing, the sharing popup is displayed. Click on the copy button associated with "thumbnail for forums" and paste this into your post (it includes all the BBcodes needed). I change the "thumbnail for forums" URL with the "Direct link" URL. You can click on the image and it will be displayed full size.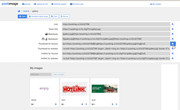 This is the preferred method to post images!
All your images are in one place and you can reuse them across posts if needed.
Your discussion forum will load faster because the smaller thumbnail file size.
You will use less memory on the discussion forum server
The upload file size is not limited by the discussion forum server.
B. Edit a post and click the Add Image to post link just below the post edit box and following the instruction in the popup window to upload a file from the user's PC to the postimages website. Please read the Image upload mod for phpBB. If you intend to reuse the image you will have to take note of the URL to the image on postimages.org. If you are logged into postimage the image will be added to your default gallery. If the Image upload mod is enabled then you can drag and drop the images on the edit box but the image will not be added to your default gallery using this method.
C. Go to website and left click image and select copy image location and insert it between image tags. This is called hot linkng and you should never hotlink copyrighted images from other websites. Large images will be resized to fit the window or will be the size of the original. Some websites prevent hot linking,

This image is from the BSA BRAND CENTER
D. Edit post and select the Attachments tab and browse for image from you PC. Add File comment and click Add the File. Only the author can use this file in this post. The author cannot reuse the image in other posts. The maximum file size for upload is set at 500kb.
You can either create the images as you draft your text or if you have numerous images you create them all after your draft text is finished. The basic procedure is thus:
Collect and edit images on your PC. I use irfanview to capture images displayed on my monitor's screen and crop, resize, and etc.

Now go to the post you wish to edit, enter the edit mode, and browse for the images. Below you will see the list of images I added to the post. If the Image upload mod is disabled then you can drag and drop the images onto the edit box.



If you are using the WysiBB Editor then position the cursor where you want the image and click on the little image icon in the tool bar. The insert image window will pop up.



Now right click->Copy Link Location on the desired image in the attachment tab. Copy the link address of the image from the browser address bar and paste it to the image properties window and click OK. Do this for all images.

NOTE: when copying URLs it is not necessary to copy the "&sid=..." portion of the query string.
This documentation relates to the Troop Discuss and Crew Discuss product , one of a family of web presence products of Ten Mile High LLC. The parent company Ten Mile High also offers a soon to be released virtual IVR telephony product and a SSH Explorer product.
---
6. The User Profile Settings
---
7. Uploading Files
---
8. Inserting links to Files into Posts
---
9. Operating Procedures for Scouts and Crews and Administrators
Operating procedures that should be performed by the following Crew officers:
Board Administrator Vice President
Board Moderator
These procedures should require 15 minutes or less per week per officer on average.
Daily procedures:
Board Administrator Vice President monitors user access. Administrator receives email per ACP->EXTENSIONS->User Access Notification
Board Moderator monitors new topics and posts. Board Moderator should be subscribed to all forums so to be notified of all new topics.
Board Moderator edits topics and posts as requested by user when user can't edit same due to exceeding editing time limit. See ACP->POSTING->Post settings->Limit editing time.
Board Moderator mentors Crew members on use of the Crew messaging board.
Board Moderator responds to all new topics added to the HELP forums.
Weekly procedures:
Crew Secretary should post meeting minutes and meeting agenda topics in the Crew Notifications->Meeting Agenda and Minutes forum.
Board Administrator Vice President should review the forum logs at ACP->MAINTENANCE
Review new topics and new replies for which the officer is responsible.
Monthly procedures:
Crew Administrative Vice President and Program Vice President should create Public announcement topics (recruiting and activities) and coordinate with the Board Administrator Vice President to update the board wide announcement ACP->EXTENSIONS->BOARD ANNOUNCEMENTS->Announcement settings..
Crew Program Vice President should update the Crew calendar of events in CREW NOTIFICATIONS->Crew Calendar forum
Crew Treasurer should update Cash Book spreadsheet with income and expense items in CREW NOTIFICATIONS->Crew Financial Report
Crew Treasurer should notify Crew members that have a negative balance and are expected to bring their account even as soon as possible.
Crew Historian should update "In the News" and "Videos and pictures for Public Release topics
Crew Program Vice President should update the CREW NOTIFICATIONS->Upcoming events forum
Quarterly procedures:
Crew Quartermaster defines and updates products and maintains inventory of products and assigns Crew member to produce any custom items to be sold in the on-line store.
Crew Quartermaster coordinates fund raising activities and service projects.
Crew Quartermaster should update the Packing Lists at CREW PROJECTS->Packing lists and coordinate equipment acquisitions at CREW NOTIFICATIONS->Shopping Garage/Yard Sales and second hand stores.
Semi-annual procedures:
Crew Secretary should create Crew officer election announcement at CREW MEMBER OPEN FORUMS->Officer Announcements.
Crew Secretary should report the Crew officer election results at CREW NOTIFICATIONS->Current Officers.
Board Administrator Vice President will update Administrator email when new Board Administrator Vice President is elected
Each Officer should update their signature to reflect their new title. See UCP->Profile->Edit signature
Crew President prepares the annual report to the chartered organization and adds topic to CREW NOTIFICATIONS->Annual report to the chartered organization forum.
Read the Leadership training materials listed below
Annual Procedures:
Crew Quartermaster coordinates service projects at CREW MEMBER POLLS AND SURVEYS->Servie selection and CREW PROJECTS->service project.
As needed procedures:
Board Administrator Vice President must activate newly registered users. See ACP->USERS AND GROUPS->Inactive users per the admin's notification options. the user profile information is viewed at ACP->USER AND GROUPS->Manage users-> Profile.
Board Administrator Vice President should add topics to locked forums as needed
Board Moderator adds new forums per direction of Crew Officers and subscribes to it.
Crew Guide should mentor and monitor use of the board of Crew members work toward Programming and Digital Technology Merit Badges and the Venturing Nova Award in the Computers STEM exploration.
Crew Administrative Vice President respond to Contact requests found in the CREW NOTIFICATIONS->Knock at the Door forum.
Board Administrator Vice President should submit tickets to the Help Desk to resolve CrewDiscuss Messaging Board technical issues.
Crew Program Vice President should update CREW MEMBER POLLS AND SURVEYS
Crew President appoints youth chairs for special projects and adds project topic at CREW MEMBER OPEN FORUMS->Meeting Place.
Board Administrator Vice President will send mass emails to Crew members per direction of other Crew officers.
---
10. How to protect and clean your computer from malware
5 ways you didn't know you could get a virus, malware, or your social account hacked
It is worth repeating what is said in the articles
The best protection from malware — whether ransom ware, bots, browser hijackers, or other malicious software — continues to be the usual, preventive advice:
be careful about what email attachments you open (if there is any question as to why you received the email, DO NOT OPEN THE ATTACHMENT!)
be cautious when surfing by staying away from suspicious websites (if the website does not use https or your browser issues a warning about the website DO NOT GO THERE!)
install and maintain an updated, quality antivirus program.
use only complex passwords (PASSWORDS SHOULD BE AT LEAST 10 CHARACTERS, CONTAIN DIGITS, BE IN UPPER AND LOWER CASE, AND CONTAIN SPECIAL SYMBOLS)
Even if you don't currently have any problems, you could prevent future attacks by following the instructions below.
Q. My computer seems infected by some spyware/adware/virus. What do I do?

Here's what you need to do:

1. Go offline. Turn off WiFi, remove the Ethernet cable, or do whatever you need to go offline.
Note: If you see a fake "anti-virus" prompt, do not click anywhere on the screen. Just turn off your computer and follow these instructions.

If you are already infected with the fake "anti-virus" follow these steps first, then follow the rest of the steps starting at step 7:

How To Remove Antivirus Live and Other Rogue/Fake Antivirus Malware

2. Backup any important data to an external USB drive or CD/DVD.

3. Install anti-spyware software

Download some spyware removers. If you have access to another computer, download these files on the other computer, then transfer them to your computer using a USB stick. Boot into Safe Mode in Windows on your computer, and run the following software:

Note: To boot into Safe Mode, press F8 just after powering on your computer, and keep pressing F8 in 3 second intervals till you see a screen with choices. Select "Safe Mode" (not Safe Mode with Networking) from the options and press enter. If you don't have access to another computer from which to download the software, then select "Safe Mode with Networking" instead. Once your computer boots up into Safe Mode, proceed with installing the following software.

ATF Cleaner
Note: Run this first to clean out all temporary files. This will greatly reduce scan time.

Malwarebytes' Anti-Malware

Spybot Search & Destroy
Note: Make sure to select "TeaTimer" and "Spybot Resident" options during install. TeaTimer is a bit heavy on resources, but will protect you from future attacks. If you have more than 1GB of RAM, select it. After running the full scan and cleaning up whatever was found, click on the Immunize icon on the menu on the left, and then click the Immunize button to immunize against known spyware.

Lavasoft Ad-Aware

Super AntiSpyware

Panda Anti-Rootkit

Trend Micro Rootkit Buster

After installing each of the above, run them one after the other. Make sure to choose "Custom" install whenever possible, because some of these might install additional stuff such as toolbars and other options which you don't need. Once installed, update the software with the latest definitions before running the scans. Run each of the above in full-scan mode, one after the other. Make sure to clean/fix whatever it finds.

4. Install anti-virus software

Download and install one of the following free anti-virus software:

Avira AntiVir
Note: This is reportedly the best free anti-virus, but some users have reported issues with the definitions update function. If the update function doesn't work on your machine, uninstall and install another anti-virus from this list. For advanced users, if you want to disable the upgrade nag screen that Avira displays, please see this page.

Microsoft Security Essentials

Avast! Anti-Virus

AVG Anti-Virus

5. Clean out temp files, and other junk

Download and run:

CCleaner
Note: This is a powerful cleaner software, be careful with what you select. Also run the registry cleaner from Tools/Registry Cleaner

6. Remove suspicious and unused starup entries

After using CCleaner to clean up temp files and cookies, go to the Tools option in CCleaner, then click the Startup option. Here, you'll see a list of all programs that startup when your computer boots up.

If you're sure of what you're doing, you can delete entries. If you are unsure, disable the entry instead.

If you want to scan any individual file on your computer against about 40 anti-virus programs, upload the file to the following site (free, no registration):

http://www.virustotal.com/

You can also check each individual entry against the exhaustive list at the following link to decide whether to keep it or delete it:

7. Re-install Windows

If you still have problems caused by spyware/adware/virus, do a clean re-install of Windows. Make sure to backup your product keys, etc. before doing a clean install. There are freeware tools that will extract keys from existing installations on your computer. One such tool is:

http://www.magicaljellybean.com/keyfinder/

8. Other useful software
Download and install Ghostery and set it to auto-update the blacklist.

This site contains an exhaustive list of the best free software for Windows, including Firewalls, Disk Deframenters, System Utilities, and other software to optimize your computer:

http://www.techsupportalert.com/

9. Backup Backup Backup
I cannot stress enough on this. Anyone who has lost data in the past will tell you how important this is. External USB hard disks are available for under $100 these days, and allow you to backup your entire computer.

freefilesync.org/

Another backup software is Acronis TrueImage. It's not free, but totally worth the money:

www.acronis.com

Another favorite is Dropbox. Download and install it, and set your important folders to backup directly to Dropbox.

Other free backup software options are reviewed here:

http://www.techsupportalert.com/best...backup-program

Note: This post will be updated from time to time. If you have general computer questions, or solutions to common problems, that you think will be of help to others and should be included in this topic, feel free to add it below. Some of the posts from this topic that contain useful info may be copy/pasted into this forum. Some posts may be deleted to keep this topic useful.

Thanks for reading.
---
11. Philmont Packing List
Maximum target weight all gear - 40 to 50 pounds (depending on individual body weight and age) BackPackingLight
Go on at least two overnight shakedown hikes with full gear and to break in hiking boots prior to Philmont. (5 miles in and 5 miles out)

Personal Equipment

Packing
pack with padded hip strap I use a 5400 Cubic inch bag Kelty or Osprey, or Northface or REI (rental available at Philmont) (I prefer external frame)
pack cover–waterproof nylon – REQUIRED, sometimes packs have integral rain cover and water bladder.
6-12 zip-loc plastic bags–assorted sizes to pack clothes, toiletries, etc ( I pack each day of clothing in a separate bag)
Hiking poles – collapsible, I prefer aluminum ski poles (remove the basket)
hiking boots (with ankle support (for adults Men's KARRAIG MID WP for years of use ) – well broken in

Sleeping
sleeping bag in tight small stuff sack lined with plastic bag around it. 20 degree
sleep clothes-worn only in sleeping bag (T-shirt and gym shorts usually, long underwear optional)
straps to hold sleeping bag on pack (if required)
sleeping pad, or light weight inflatable (I don't fine much use in either of these.)

Clothing
lightweight sneakers or tennis shoes to wear around camp (crocs, Teva sandals, shower thongs AKA flip-flops)
3 pair heavy hiking socks * (one worn, 2 extra)
3 pair light inner socks * (one worn, 2 extra, Polypropylene recommended)
3 pair underwear (one worn, 2 extra)
2 hiking shorts* (one worn, one extra, I use pants with zip-off legs instead for all my pants)
1 long sleeve shirt (not cotton, good for cold evenings)
1 pair long pants, (I bring 2 pair of zipoffs instead)
2 T-shirts * (one worn, 1 extra, not cotton)
1 sweater or jacket (wool or Polypropylene) optional
1 hat or cap–flexible, with brim
1 sturdy rain suit (rain coat and rain pants, NOT A PONCHO) This is my jacket when I need one
1 stocking cap (wool or Polypropylene) optional
1 glove liners or mittens * (wool or Polypropylene) optional
2 bandanas or handkerchiefs
Gloves (Walmart Hyper Tough)

Eating
Bowl and cup or sierra cup preferred, do not bring the squishy bowels
spoon
2 one qt. nalgene water bottles
2-3 liter hydration kit for the backpack
seasoning (crushed red pepper spices up the dehydrated eggs) (make sure you have salt)
Miscellaneous
one or two extra ditty sacks
small pocketknife optional
flashlight (small with new and extra batteries) I bring a headlamp
Philmont map (A)
compass need 2-3 for the Troop/Crew
whistle
money ($20 – $25 in small bills)
lip balm
toothbrush/toothpaste
small camp towel
personal medicine (if required)
1 bar Ivory soap
sunscreen at least 15 SPF
sunglasses
medications, Ibuprofen (pain killer with parent approval), monkey butt powder.
spare prescription glasses

Optional
camera and memory card
fishing equipment/licenses
postcards, pre-stamped
foot powder if you need it
note pad and pen
Day pack or fanny pack – useful depending on you side hikes
Water filter, the micropur they give you works well unless you have to use really dirty water
duct tape I put this on my trekking poles or around my Nalgene to prevent attracting bears
watch, inexpensive optional

Troop/Crew Gear to bring
2-3 6 liter carriers for dry camps. I prefer 3 6-liter MSR dromedaries
2 or 3 50 ft parachute cord
1 Gerber Multi-tool
8-10 extra tent stakes
2 whisperlite stoves plus 2 fuel canisters. Bring a 33 and a 22 oz
1 Troop/Crew first aid kit, with meat tenderizer and baking soda for stings. calamine lotion, anti itch cream, liquid Benadryl if throat is swollen and can't swallow.
2 camp soap per Troop/Crew
ground tarp for tent, I use 4 mil plastic
backpacking tent for every 2 people. Share tents, the campsites are not that large. (hammocks are not permitted)
1 trowel for catholes if needed.
small rubber scraper for cleaning out pot and dishes 1 per Troop/Crew
Trash bags for wet cloths and whatever

Philmont, what to bring

Where to get Budget Backpacking Gear for Philmont. If you want new gear, then lightweight backpacking gear is available at various trusted retailers:
If you want to search for used gear at a discount, then check out this eBay search (link).
Go vintage, works for me.
---
The Philmont Hymn from the 'Live From the Tooth
Update Required
To play the media you will need to either update your browser to a recent version or update your
Flash plugin
.